A WAY WITH WORDS

A Way with Words is an upbeat and lively hour-long public radio show about language examined through history, culture, and family. Co-hosts Martha Barnette and Grant Barrett talk with callers from around the world about slang, grammar, old sayings, word origins, regional dialects, family expressions, and speaking and writing well. They settle disputes, play word quizzes, and discuss language news and controversies.
HOSTS: Martha Barnette and Grant Barrett 
ALTERNATIVE RADIO
Alternative Radio, established in 1986 and located in Boulder, CO, is a weekly one-hour public affairs program that features lectures and readings by renowned intellectuals, educators, activists, and speakers. Wholly independent from corporate and political influence, AR provides information, analyses and views that are frequently ignored or distorted in other media.
HOST: David Barsamian
BACKSTORY
BackStory is a public radio program that brings historical perspective to the events happening around us today. On each show, the American History Guys (renowned U.S. historians Ed Ayers, Peter Onuf, and Brian Balogh) tear a topic from the headlines and plumb its historical depths. Over the course of the hour, they are joined by fellow historians, people in the news, and callers interested in exploring the roots of what's going on today. Together, they drill down to colonial times and earlier, revealing the connections (and disconnections) between past and present. With its passionate, intelligent, and irreverent approach, BackStory is fun and essential listening no matter who you are.
HOSTS: Ed Ayers, Peter Onuf, and Brian Balogh
THE BEST OF OUR KNOWLEDGE
Every day, faculty members at schools and universities throughout the world are making discoveries that shape our ways of thinking and redefine our understanding of today's knowledge-driven society. Since 1990, The Best of Our Knowledge, from Northeast Public Radio WAMC, has highlighted breakthroughs across disciplines and across the globe, putting you in touch with the men and women at the forefront of their fields. Each week this program examines some of the issues unique to college campuses, looks at the latest research, and invites commentary from experts and administrators from all levels of education.
HOST: Bob Barrett
BIG PICTURE SCIENCE
Big Picture Science, a weekly hour-long program produced by the SETI Institute,  engages listeners with modern science research through lively and intelligent storytelling. Science radio doesn't have to be dull. The only dry thing about this program is the humor. BPS takes on big questions by interviewing leading researchers and weaving together their stories of discovery in a clever and off-kilter narrative style.
HOSTS: Seth Shostak and Molly Bentley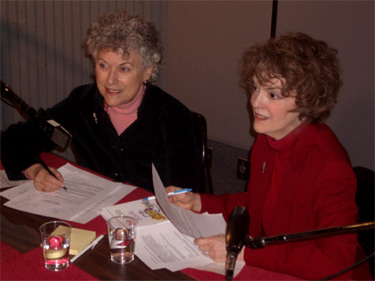 PARENTS' PERSPECTIVE
Produced in suburban Maryland, Parents' Perspective, is an award-winning weekly radio program that helps moms, dads, and guardians find help with topics as diverse as schools in a stressful time, parents as advocates, stepfamilies, playground safety, risk-taking behavior, toddlers and media, helping children learn to manage money, and what teens want their parents to know. Experts in such fields as child development, medicine, nutrition, psychiatry, education, sports, social work, child care, and law enforcement are featured to provide up to date information and resources.
HOSTS: Sandra Burt and Linda Perlis
PHILOSOPHY TALK
Philosophy Talk celebrates the value of the examined life. Each week, our two host philosophers from Stanford University invite you to join them in conversation on a wide variety of issues ranging from popular culture to our most deeply-held beliefs about science, morality, and the human condition. Philosophy Talk challenges listeners to identify and question their assumptions and to think about things in new ways. The show is dedicated to reasoned conversation driven by human curiosity. Philosophy Talk is accessible, intellectually stimulating, and most of all, fun!  Would you like to be a caller on Philosophy Talk? Please send email to ideas@philosophytalk.org if you have an angle to add to any of the upcoming topics on Philosophy Talk, or if you have suggestions for future topics. You could be a guest caller on the air!
HOSTS: John Perry and Ken Taylor
RADIO CURIOUS

Over 26 years and counting, Radio Curious has presented and still presents interviews on a curiously wide array of topics concerning life and ideas.  These programs are a gift to listeners from host and producer Barry Vogel, who started the show to expand the work he began in 1974 as an attorney and counselor in Ukiah, CA. Every week offers an opportunity to learn something from fascinating and eyeopening conversations.
HOST: Barry Vogel
TUC RADIO
TUC Radio is a weekly public affairs program that brings you important voices talking about the untold story: the impact of the big corporations on society. This is radio for the 99 Percent. TUC stands for Time of Useful Consciousness, the time between the onset of oxygen deficiency and the loss of consciousness. These are brief moments in which a pilot may save the plane. TUC Radio provides today's troubled society with important, potentially lifesaving moments. Listen.
HOSTS: Maria Gilardin
THIS WEEK IN PALESTINE

This Week in  Palestine is a weekly 45-minute segment of news from Palestine and discussion of issues relevant to the Palestinians' struggle for freedom from the Israeli government's brutal military occupation and colonization of their homeland.  This program, produced in Newton, MA, presents news and analysis from the Palestinian perspective, which is generally not presented by mainstream corporate media; we offer it as a public service. This show was created by the late Sherif Fam and continues in his memory by a group of his colleagues.
HOSTS: John Roberts
UNWELCOME GUESTS
The Unwelcome Guests Collective is a group of volunteer broadcasters who produce a series of two-hour public affairs talk radio shows exploring the pernicious effects of money, governments, corporations, power hierarchy, and other topics mainstream corporate commercial media outlets are either unwilling or unable to cover. The collective's aim is to provoke and stimulate listeners and show that a radically different world is not only possible, but is in fact the only feasible choice.
HOST: Robin Upton
WITH GOOD REASON
Every week on With Good Reason, ever-curious host Sarah McConnell takes you along as she examines a wide range of topics with leading scholars. Featured guests have included Julian Bond discussing race in America, Bruce Greyson sharing his study of near death experiences, Mike Seeger exploring American folk music, Aniko Bodroghkozy tuning in on sixties television, Bryan Caplan on the "myth of the rational voter," Nikki Giovanni reading from her poetry, and Nobel Prize winning author Toni Morrison.  You may discover the traditions of the samurai warrior, hear about the ways we pre-judge others based on their accents, or laugh at the surprising history of Hawaiian shirts.The show is produced by the Virginia Foundation for the Humanities for the Virginia Higher Education Broadcasting Consortium.
HOST: Sarah McConnell